If you live in an apartment or townhouse and only have a small kitchen, you need compact appliances to save space. So which are the best kinds to buy?

If you're the kind of person who loves spending some quality time in the kitchen, preparing great meals, baking cakes and cookies, creating recipes and using them, then you'll be sure to have a good collection of labor saving appliances in there.

This is because no matter how much you may enjoy getting on with stuff in the kitchen, there's little point in making extra unnecessary work for yourself!
When Your Workspace is Limited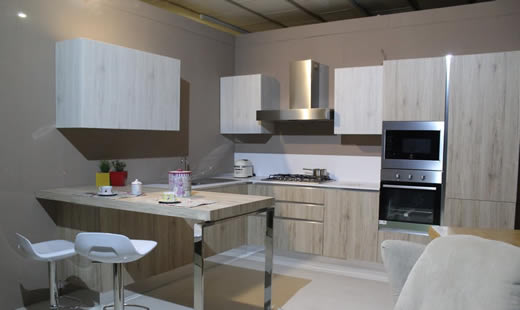 But when you are limited because the space you have to work in is only small, it takes some ingenuity and advanced planning to make sure you only have the best and smallest functional devices you can afford and that will fit into the space you have. That's when it pays to plan for your needs and buy only those devices that are essential and that are perfectly proportioned to fit effortlessly into your available worktop space.

Believe it or not, I actually don't have a particularly large kitchen and certainly not a great deal of work top space for the amount of food prep and cooking I do. But I've come to work to a kind of system that maximizes what I do have and I never seem to find myself short of free space.

A big part of that system is cleaning up as I go. I've watched plenty of cooks go about their business and make an almighty mess, while running out of space and getting all stressed over it for the simple reason they don't clean up as they go!

It's just much easier (at least for me) to place a bowl or a board or whatever in the sink and clean it up before moving onto the next thing. An before you ask, "No," I do not use a dishwasher. I do things the old fashioned way and it's never bothered me.
Choosing the Appliances to Use
The best way of going about choosing which to use is to only have those that you're going to use most often and that perform the maximum labor saving workload for the minimum of space they will take up. That can sometimes mean being pretty brutal in deciding what to have and what to do without.

My own personal choices are my multi-task Kenwood mixer that I use almost daily (it sits proudly in its place on my work top and never gets put away). I also keep a powered hand blender to one side that comes in useful for quickly mixing low volume things like sauces and blitzing small amounts of vegetables to use in soups.

Alongside those is a small digital kitchen scale for weighing ingredients and without which I would be at a loss for getting portions right for certain recipes that I use. It really is quite amazing that no matter how often I may follow a certain recipe and use the same ingredients, I can never quite guess with any great accuracy how much I need of each ingredient without using that scale!

One other useful thing is a small toaster that can handle thick slices of bread as well as baguettes, bagels and buns for example. But as that's not in use much of the time, it gets put away in the cupboard space below my main work top.

For me, that's about all I do use since I do most of my chopping and slicing by hand. So you could say my most often used tool bar none is my trusty chef's knife along with a big plastic chopping board!
The Way it Should Be
Most modern kitchens and their owners have their own collection of great kitchen appliances that they use regularly and often for a variety of tasks. Personally, I tend to use

I guess every person has their own favorites in their own kitchens and it all depends on what kind of thing you like to create. It just makes life so much easier not having to do some things by hand that an electrical appliance can do in a fraction of the time.

It is especially important when the working area is limited to keep the appliance quota to a minimum and only use the smallest and most useful of those so as not to clutter up the worktop.

[BACK TO TOP]